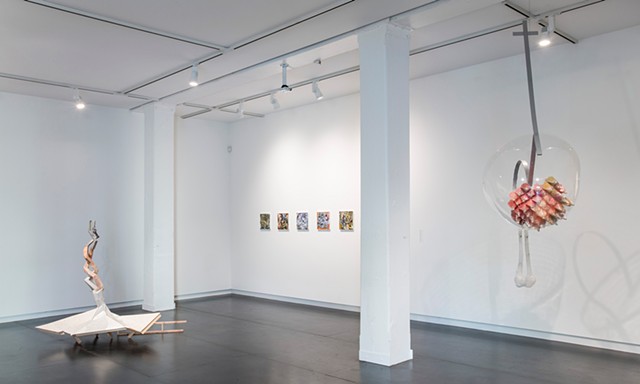 TILT Export: Fanatic
Featuring the work of Tim Flowers and Rebecca Ripple
Upfor Contemporary
Portland, OR

2014
To create his oil paintings for TILT Export: Fanatic, Tim Flowers took facial indentations with foil and painted the masks' interiors from observation. The inverted features become reverse portraits, abstracted into prisms of reflected colors. Rebecca Ripple's highly worked sculptural installations draw from her Catholic school education to produce objects that are rich in history both personal and historical, secular and spiritual, provoking visceral and intellectual responses.
Both artists approach the conception and creation of their works from a fanatical perspective, fully immersed in their respective practices. As with sports fandom and other domains of fanaticism, the fully immersed artist becomes an accidental expert, keen to study the minutiae so as to gain a greater understanding of the whole.
Artist and curators interviewed here: vimeo.com/91668112
Read the Critic's Pick by Richard Speer here: visualartsource.com/index.php?page=edit?